Supernormal
Interview
Gill Ord
Bernadette Moloney
Sam Francis
Keran James
London, UK

February 2018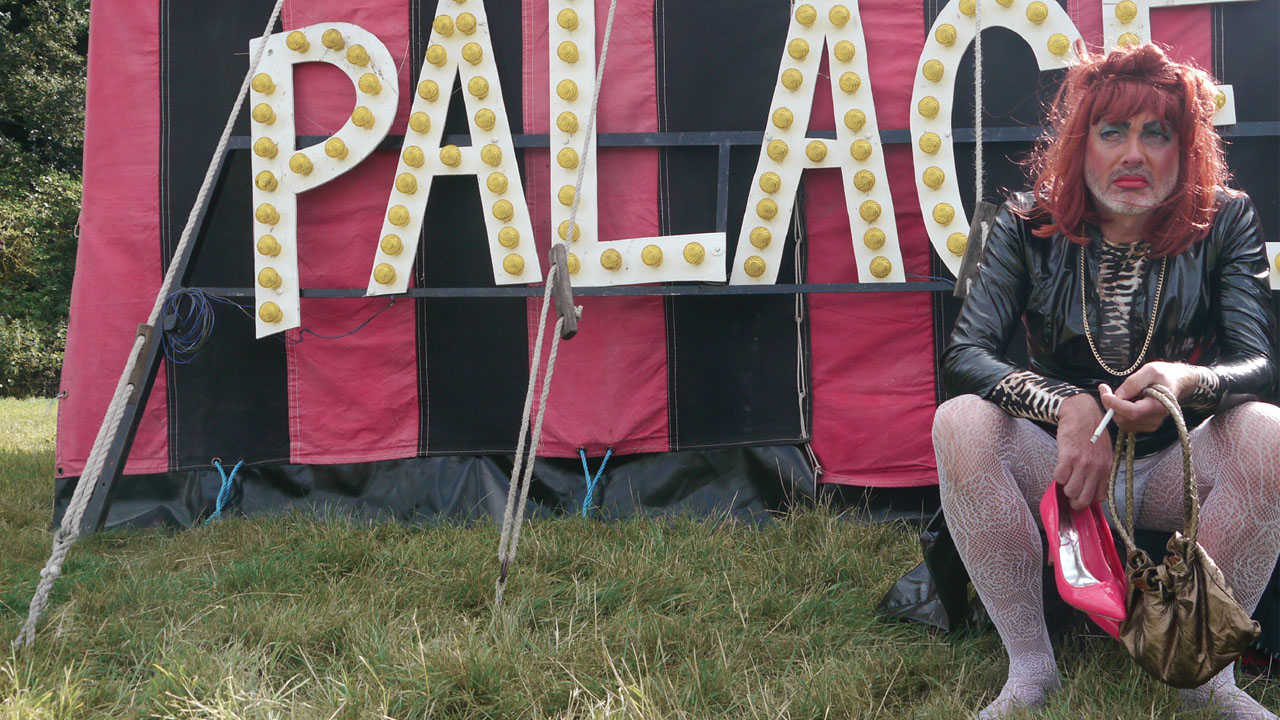 Sluice A lineage can be traced for Supernormal – the arts and music festival – back to the 1940's when Dr John Norman Glaister (Implications of the gregarious habit in man pub. Braziers Park School of Integrative Social Research. 1975) petitioned the Common Wealth Party to instigate a 'Sensory Committee' as a means to keep the leadership in touch and answerable to the membership. After the war he organised three Summer Schools at Braziers Park, which in 1950 became the Community (Braziers Park School of Integrative Social Research - bpsisr) that was set up as a practical experiment to explore Glaister's aims of social living as a means to improve the human condition, and which still occupies Braziers Park today.
In 1995 artists Andy Cohen, Simon Faithfull, Gill Ord and Bernadette Moloney were invited by Braziers to set up the first Braziers International Artists Workshop (biaw). Keran James joined the team a year later. Fifteen years later, they spawned Supernormal. Talking to the original instigators and the current directors of Supernormal, we first asked if they were aware of the heritage when they created the festival.

Bernadette Moloney From my perspective it was kind of accidental that we ended up at Braziers, and in terms of the workshop it was the place that interested us, the environment, rather than any real knowledge about what it stood for and what the community was all about. But as the workshop developed, we began to understand that much more and to see that what we were trying to do with the workshop fitted very much with what bpsisr was all about.

Keran James We were basically doing the same kind of things that they were trying to do. Finding some way of working within a society, working as a society, as a group, hoping finally to change society...

Gill Ord Braziers is a live, organic experiment, it isn't one person's idea of utopia. I think what happened was that when we read more about their thinking it totally chimed with us. The workshop connected very much to that lineage, but in a way we were at odds with the people in the community who – although the theory was there – were actually rather conservative, whereas we saw it much more radically, so we agreed in theory but not approach. In terms of the energy required to make change, Braziers seemed very static to us at the time.

Sluice The original Sensory Committee proposal to the Common Wealth party reads very much like it could come straight out of a Momentum document.
The danger is that, having been given the power they need, an Executive will proceed, first to use it in pursuit of policy which, even though formed in the general interest, has not the support of their members, and then to make criticism ineffective or impossible by abuse, or undemocratic amendments, of the constitution[...] We suggest that the problem of giving effective voice to opinion in the ranks without impeding the Executive's power to act quickly and decisively when necessary in the interests of the movement as a whole, provides our great task and our great opportunity.
So the idea that politics is adrift from the will of the public as a theme currently exercising political debate is not new. Braziers, as a living embodiment of the Sensory Committee has a duty to constantly re-evaluate it's role and it's connection to and with society. Viewing Supernormal as a loose manifestation of some of these ideas (and as Supernormal operates as a Community Interest Company) how do you feel Supernormal serves society and who is your community?

Gill Ord Originally, one of the main factors [for setting up the workshop] in 1995 was to provide for what we thought artists needed, which was to be able to meet and to talk and exchange ideas. And over the years we realised we wanted to make it international. At that point there was no internet and most artists hadn't really travelled. The opportunity to meet artists from other places was scarce. By 2010 circumstances had changed, so we were dealing with a very different group of people.

Keran James The workshop had changed by that point, certainly for us, the sort of people that came changed, it was a victim of its own success - people were less willing to risk things. After 10 years of running the workshop, we felt a great need to change its format and do something different. So in 2009, we decided to take a year off to consider whether we wanted to continue and if we did, what shape that might take.

Bernadette Moloney Once you've been involved with braziers for a while they invite you to become associate members, and in 2009 we were there for the AGM when Wood Festival was on. It got us thinking that we could do something interesting with the festival format and radically change the focus of the workshop. Part of what informed it was funding, there was pressure for there to be more of a public outcome. We'd always held an open day at the end of the workshop anyway as part of the remit for Arts Council funding.

Gill Ord And the open day had grown to a point where people would come up from London in coaches and camp over, so as much as we say we pursued radical change, really it was an organic process to some extent.

Keran James So Supernormal was born as a way to take on the workshop open day and turn it into an event. We didn't want to run a festival, we just thought the workshop needed to change, or as you say Gill, the world had changed around the workshop.

Bernadette Moloney Well in the end it was a festival that we put on in 2010 and we plunged into it very naively which in a way was its saving grace – if we'd known what we were letting ourselves in for, it probably wouldn't have happened. We were able to call on people and friends around us to help – people who knew about music, putting on live events, licensing – all this stuff we had no clue about but we did have a vision for how we'd like it to be and luckily other people got it and came on board – like Sam who managed the volunteers for us in the first year. In the second year of 'SN' we handed the management and organisation of Supernormal to Sam and a number of other people who having loved the first one offered to help. We (Gill, Bernie & Keran) got fully involved again in 2012 but after five years felt – we've done that now, we're all getting older and we don't have the energy to continue running it any longer. We thought maybe this is the end of Supernormal, but if anybody does want to take it on and continue then they could, so we were quite prepared for it to finish at that point. Sam and the core group who had invested time and energy over the previous four years decided they wanted to continue.
Where Are We Going? And What Are We Doing?
Sluice What ensures it continues on the path you set out for it? Is it important it does?

Bernadette Moloney Since becoming a separate entity Supernormal have constituted themselves as a cic and that puts all kinds of other pressures on you, in terms of how it's run and on outcomes. Supernormal received a quite large grant from the Arts Council, and that alone changes the nature of the thing. Instead of it being a group of people all taking decisions collectively you now have a situation where the people writing the funding applications are making decisions on the future direction of Supernormal based on the demands of the funding. So this is something they're addressing at the moment, how to maintain the collectivist ethos.

Gill Ord The workshop had those same pressures, we would make these applications to the Arts Council and were very successful, but each year we went back - because we weren't a regularly funded organisation – we had to almost reinvent ourselves, to keep adding on new things, such as longer term residencies within the uk, so once we got an artist here, with the airfare, visa etc it made sense to keep them. So we'd run all these residencies after the workshop with partner organisations. Then because we were getting money from international organisations we started running residencies in Mexico, Latvia, Palestine, China… but what that did was increase our workload, and the benefits for us as artists ourselves were pretty minimal.

Sluice It seems this is something supernormal will also now have to navigate?

Bernadette Moloney The Arts Council funding was critical and absolutely brilliant, but the ironic thing is that often artists in our position end up working for nothing in order to make something bigger happen. So when we were partnering up with these organisations we would do all the work getting international artists here for their benefit but these people were being paid to run their organisation whereas we weren't.

Gill Ord In the early days we were all on the same level – the participating artists and us the organising artists - and people would be astonished at our generosity, but our success meant that in time people came assuming we were there as organisers – not artists in our own right who used our own time to make this happen around each other's kitchen tables. Some artists came just to have a good time but artists that really got it would go back, taking inspiration from what we were doing to set up similar initiatives in their home countries.

Keran James The very first year when the workshop ran parallel to SN the artists that came to the workshop were openly told we're working towards a festival and that the art you produce will be a part of that festival, they were all keen but when it came down to it they were all intimidated by the festival and so decided to do anti-festival art, minimal interventions in the landscape, which no one saw and was for me, I must admit, a huge disappointment, a failure of nerve.

Gill Ord Actually I thought it was great, I thought it was a big success. It was a rebellion. The problem was that we presented them with something that was impossible. So what they did was just talk, because essentially their response was 'what the fuck are we meant to do' so for them it was a success because they had amazing discussions. The problem is, what is festival art? Is it a huge sculpture in the middle of a field or is it something much more subtle, it can be both but creating a balance is tricky with subtle visual art.

Sluice Every artist must confront this and decide if they want to compete with the spectacle or react against it, but a reactive response needn't be minimal or invisible, participatory or relational art can be highly visible.

Sam Francis In the invite to the artists the participatory aspect is raised, within the confines of doing something outside there are lots of limitations in terms of the display of visual art, and that's a challenge. What's interesting for visual artists, is how to present work in a particular context.

Gill Ord And the crossover of artists that work with sound, they operate as a link between the two.

Sam Francis All the workshops and activities are artist-led — the things we programme most via open submission are the activities.

Bernadette Moloney In a way, the music will never not dominate, because on a small site you are pretty much constantly aware of it, whereas most of the art requires a much more one-on-one active interaction.

Sam Francis I do feel it's too easy to say that the music dominates everything - it's really determined by what you concentrate on.

Keran James I think it's difficult to know what art works or fits best, or even whether it should fit at all, our desire is for there to be no barriers or division between art and music, performer and audience. We try to give artists an entirely open remit.

Sam Francis We want people to be experimental but without being too directive, so it becomes how we frame it.

Keran James The dream was that people would come not knowing what bands are on, not knowing what artists are there even - they come for this curious thing called supernormal.