Review: 2015 best of

Tash Kahn
Charlie Levine
Ben Street
Stephanie Theodore
Karl England

December 2015
The art-world is geographically fractured like never before, some of the best shows are happening off the beaten track; how can we possibly sit in judgement of 2015 when we've barely seen a fraction of the shows staged?
Well, we're opinionated and full of ourselves, so here's a selection of shows that have stood out for some of the Sluice__ family in 2015.*

*excluding Sluice_2015 related shows, which were obviously the best.


Tash Kahn Sluice_magazine Editor
Sarah Sze Victoria Miro London
Rocks on newspapers and tangled desk-lamp wires. Sublime show. Best of the year.

Richard Tuttle Modern Art London
It's Tuttle goddammit. Tuttle is my man.

Tal R Victoria Miro London
L-shaped corridor filled with paintings of closed blinds. Endlessly repeated. Endlessly affective.

Paul Lee Modern Art London
Light bulbs, bath towels and black ink. Fragile, playful, art simplicity.

David Blandy Bloomberg Space London
Empire and civilisation as spinning, mutating, video and voice.


Eleanor Morgan / photogram © Eleanor Morgan / 2015
Charlie Levine Sluice__ Associate Curator
Yazan Khalili Mumbai Art Room Mumbai
'On Love and Other Landscapes' was hypnotic, something to do with the Indian heat, something to do with the charisma of the gallery's curator, but mostly the story that Khalili told, he made me fall in love with the characters, landscapes and particularly the pauses, the pages with no words – just space. A really wonderful project.

John Harrison and Paul Wood Carroll Fletcher London
From some familiar video works to new miniature installations, their 'A city' was a perfect sync of whimsy, model making, dystopian/utopian city planning and play.

Eleanor Morgan Grant Museum London
A sympathetic intervention into the Grant Museum this Autumn of prints, sculptures, loans and displays of actual glass sponges and my personal favourite – a real diamond that Morgan had made herself.

Karl England Dolph Projects London
I'm aware this looks like a little insider selecting going on but if I'm being honest I really did love this show by England at Dolph. I have been a fan of England's work since before we ever met and for me this exhibition was a prime example of why. It was humorous, all about process with the right amount of low-fi attitude.

Ragnar Kjartansson Palais de Tokyo Paris
Like a large dolls house cum theatre set where two characters repeatedly fall in love this piece by Kjartansson heightens the innocent desire of such an encounter.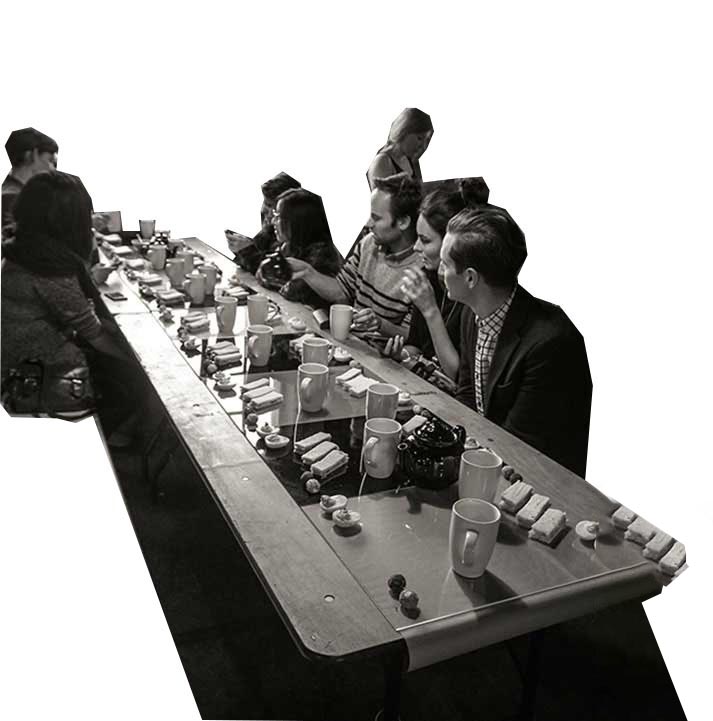 Meriem Bennani / install photo courtesy Signal / 2015
Ben Street Sluice__ Co-director
Vija Celmins Sucession Vienna

Simon Denny Venice Biennale Venice

Goya The Courtauld Gallery London

Kerry James Marshall David Zwirner London

Eleanor Antin Columbia University Art Gallery New York


Stephanie Theodore Exchange Rates expo co-producer
H.C. Westermann Venus New York
A fascinating exhibition of a wildly underrated post-war master, Westermann didn't ask permission to do what he wanted, he just did it. and he did everything himself. From the incredible larger-than-life figures to the tiniest hand-carved shark fin, to the collection of illustrated letters from a trip across America, this show presented the full range of Westermann's talents and concerns. AND IT WAS GREAT FUN. I am still annoyed that the big retrospective of over a decade ago never came to NYC. This helps.

Gustave Caillebotte National Gallery of Art Washington
I overheard a receptionist at the NGA telling a visitor "Caillebotte is an Impressionist no one has every heard of." Well, too bad for everyone else. Caillebotte made urbane and elegant work that feels bracing and relevant today. Never heard of him? Am sad for you. Another show that bypassed New York, sadly.

Samuel Laurence Cunnane Kerlin Gallery Dublin
So impressed with this young photographer with the wise gaze, I had to show him at mine. [Theodore:Art]

Fred Valentine Studio 10 New York
One of the pioneers of the Bushwick/Ridgewood artist-run-space community, Fred Valentine also turns out to be a creator of thoughtful, slow-view/slow-brew, geometric abstract paintings. Kudos.

Meriem Bennani Signal New York
Signal is possibly the most interesting gallery in Bushwick, if not in all of NYC. Meriem Bennani's show was a crowning moment in another year of taking aesthetic chances and winning. Hypnotic and really well done.

Finally, I am still so amazed that the artists I worked with this year stepped up and gave 110%. Every time I had to take down a show, I was very very sad.  Lisa Beck's A Momentary Taste (Condensed) and Gary Petersen's wall paintings in Not now, but maybe later could have stayed up forever and I would still be very happy.


Karl England Sluice__ Co-director
Samara Scott Eastside Projects Birmingham
Artfully deconstructing the gallery space - always a winner.

Sarah Sze Victoria Miro London
Sze's Wharf Rd show consisted of three parts, room one an appetiser to the triumph of room two, room three evidence of a lightness of touch gone awry.

MAIO MACBA Barcelona
A group exhibition about "..the spaces that define us according to the way we use them" in which - fittingly - the structure of the exhibition, created by architects MAIO stars.

Marcus Cope studio1.1 London
A painting show about the forces in play when you sit in front of a canvas ready to paint. A painting show that considers the space it hangs in. Two things to love in this Marcus Cope exhibition.

Johanna Billing Hollybush Gardens London
Consummate exhibition craft - from concept to realisation.


/////////////